THE RETURN OF 1960'S SPACE AGE WITH CHANEL (F/W17-18 – PARIS FASHION WEEK)
Every season, the Chanel runway presents us with the most radical set designs at the Grand Palais in Paris and this year, in keeping with the Space concept for the show titled CHANEL Ground Control, Karl Lagerfeld created a Space station inspired set, complete with a life-sized rocket which was placed in the middle of the runway.
New fashion trends and themes always relate to current events in some way or another. The space inspired pieces that have been gracing the runways this fashion month, stem from France's celebration of Thomas Pesquet, a French Astronaut who is on board the International Space Station, carrying out scientific experiments.
This is not the first time that fashion has been majorly inspired by outer space. In 1969, during the space race, when Neil Armstrong first landed on the moon, the interstellar theme had taken fashion by storm and it was Parisian designers like Andre Courreges, Pierre Cardin, Paco Rabanne, Emanuel Ungaro and Yves Saint Laurent who celebrated this theme and created collections around it, at that time.
Karl Lagerfeld describes this collection as intergalactic and said that he was inspired by the sky. One can see typical space inspired pieces that were featured in the collection, starting with the astronaut prints on the chiffon, Sparkly tweeds, metallic finishes, Shiny silver Go-go boots, futuristic space goggles and the retro rocket-ship bag hanging off a silver chain.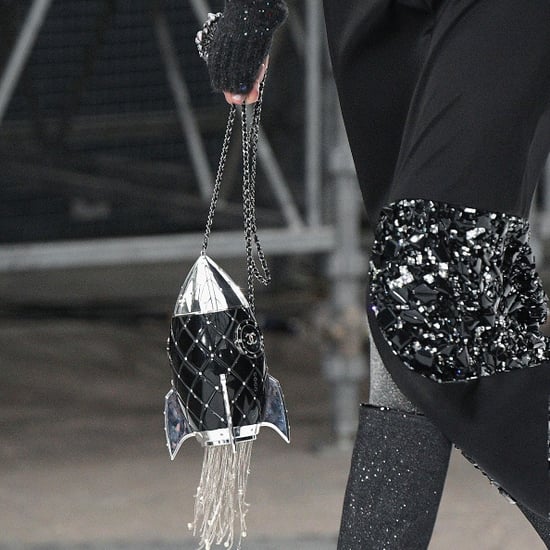 The hair and makeup was also reminiscent of the late sixties, featuring heavily mascara-ed eyes, bold liner and the typical sixties Barbarella teased hairdo which was accented with a shiny headband.
The show started off with an overall, all white theme, which then built up with the use of rose and blue hues and ended on a dark note with black with big names like Kendall Jenner, Bella Hadid, Gigi Hadid, Lindsey Wixson and Binx Walton walking the runway while Chanel Ambassadors Pharrell Williams, Cara Delevingne and Lily Rose Depp graced the front row of the show.
The show was concluded with a blast, with a countdown and the rocket actually lifting off the ground very realistically, including smoke and sparks. Karl took his final bow with Hudson Kroenig, Chanel's favourite child model, who debut the new Gabrielle bag.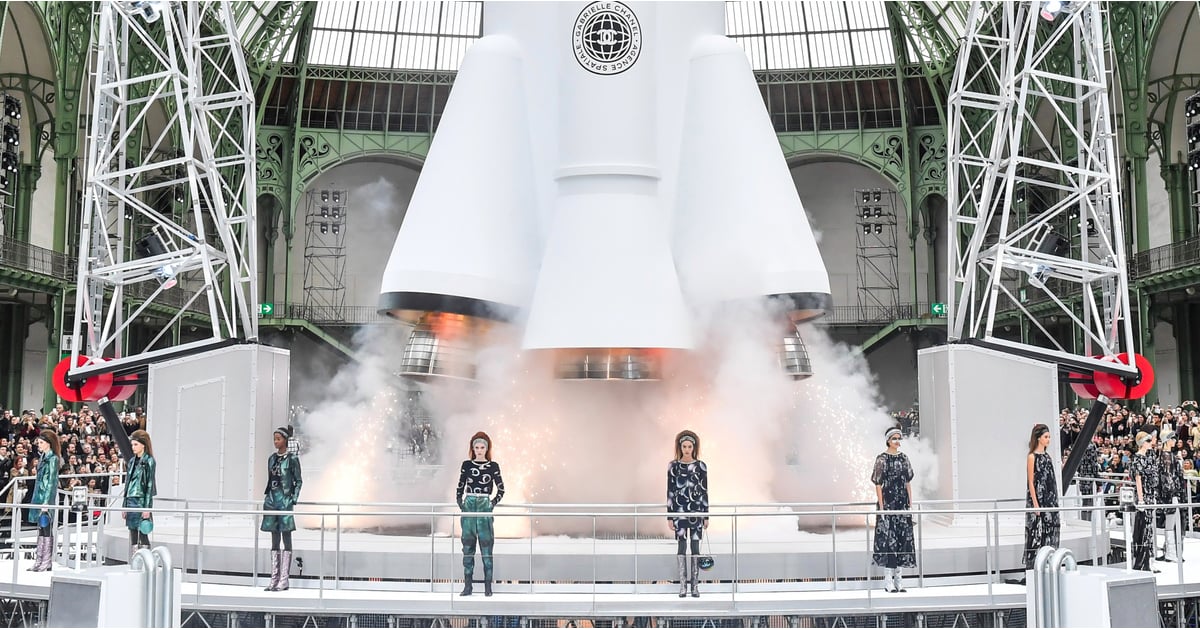 The Gabrielle bag, which is gender fluid and has been promoted by Cara Delevingne, Pharrell Williams, Kristen Stewart and Caroline de Maigret is named after Gabrielle 'Coco' Chanel, and features pieces in black, tweed and colour block and costs anything between $3000 and &6,400 due to the varying sizes and fabrications. This is the latest Chanel bag to be launched in the market.
Watch the entire show here.
Much Love,
Mariam R